Hey there music fans!  Did ya miss us?  Well don't worry, The Record Shop Nashville is back to bring you another segment of our Nashville Recording Studio's series BEHIND THE GEAR (and the crowd goes wild!!!).  Today's BTG is about not one, but three of The Record Shop's favorite pieces of gear; our beautiful Taylor Guitars.
 We are all aware that music and sounds are subjective.  Each person has their own personal tastes.  The man, the myth, the luthier legend Bob Taylor acknowledges that not every one is going to prefer the sound of a Taylor guitar over other guitars, but there is no denying that a Taylor guitar plays well; which, we all know was Bob's ultimate goal. 

He is a personal hero to us at The Record Shop because of his dedication to the design and advancement of guitar manufacturing.  Typically when you think of a product going into mass production, the quality tends to get worse as costs are cut to make profit.  Bob understood that mass production meant that Taylor Guitars had an obligation to their new customers to make the quality of his guitars even better than when he was making them individually by hand.  So, as the legend goes, he and a team began designing his own factory machines to supplement the increase in demand.  Taylor Guitars developed things like their own steam presses whose heat is adjusted depending on wood type, assembly lines of saws and files to cut the neck and head stocks, and even lasers that can make cuts thinner than a stand of hair!
!!!! L-A-S-E-R-S !!!!
We would be remiss if we didn't mention Bob's humility.  Most companies try to keep their trade secrets hidden, but Bob has always been animate about sharing his process and knowledge.  You can watch his great factory tour videos at Taylor Guitar's website here!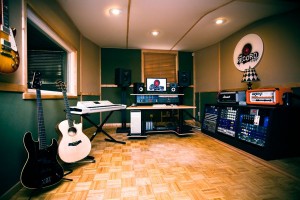 Taylor Guitars, along with many other guitar manufacturers, also have a strong passion for the preservation of the world's forests so they can keep building guitars out of the best woods from around the world.  One last great thing about Taylor Guitars is their effort for obtaining ebony for their guitars by only ethical means.  Have we mentioned the lasers yet?!?!
For these many reasons, and simply because we love the sound, we have acquired our Taylor Guitar Triple Threat! Nestled in the halls of The Record Shop Nashville you will find our Taylor 914c, Baritone, & T5!  The 914c is a special edition, made out of cholla wood, and can achieve any genre-defining sound for your track.  Have you ever played a Baritone guitar before?  The tonal depth that this unique design creates is unparallelled.  Lastly, the T5 is electric-acoustic powerhouse of tonal versatility with two sets of humbucker pickups, a body sensor, 5-way pickup switch, and 2 preamp tone control pots.  Playing these Taylor guitars is one of the most addictive things in the world.  It's a miracle we get any work done with these beauties batting their eyelashes at us all day.
Thanks for tuning in to this session of Behind The Gear!  Feel free to peruse our Nashville Recording Studio's complete Gear List, and don't be a stranger!  Follow & chat to us on Twitter @therecordshop.
https://therecordshopnashville.com/wp-content/uploads/2018/10/nashville-recording-studio.png
0
0
The Record Shop
https://therecordshopnashville.com/wp-content/uploads/2018/10/nashville-recording-studio.png
The Record Shop
2014-05-27 17:41:56
2014-06-04 14:53:55
Taylor Guitars