Good morning, noon, or night music fans!  Thanks for coming back to The Record Shop's Nashville Recording Studio for yet another installment of out never-ending, musically-sensational, out-of-this-world series BEHIND THE GEAR!!!  Today's episode is for all you amazing guitar slingers out there strummin' and pickin' them strings ery'day.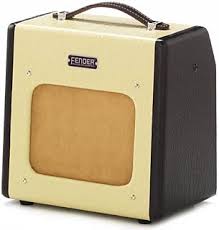 We have many great guitar amps inside The Record Shop Nashville's hallowed halls, but amongst our larger 2×12 and 4×12 amplifiers sits the tinier Fender Champ 600 reissue.  Don't let its size fool you; this little guy has been putting out sounds that have bewildered and inspired guitar players since the 1940's!
A Champ's Journey
The Fender Champ 600 was first manufactured in 1949.  It was the second Champ design; it's predecessor being the original Fender Champ 800 amplifier that was manufactured one year earlier in 1948.  Like the 800 model, the Champ 600 is a 4-watt amplifier with 3 tubes and an angled rear panel with two inputs and one volume control knob.  It also had the famous diminutive "TV-front" look with the tweed covering, though the 600's vinyl covering is a two-tone brown instead of the greenish tweed of the 800 .  The only significant difference in the Champ 600's design is that it has a 6″ speaker cone instead of an 8″ cone.  As time went on the Champ was continuously redesigned with different color vinyl and tweed covering, alternate speaker cone sizes, input & volume control placement, and even being renamed to just The Champ or Champ Amp.  In 1982, the Fender Champ series was discontinued until 2006, when an updated version was released as part of Fender's Vintage Model Line.  To see a more in-depth history and evolution of the Fender Champ from the company itself click here!
The Record Shop Nashville is glad to have added one of the reissued Fender Champ 600 amps to our gear roster.  Though it is cosmetically similar to the original 600 there are some differences in the specs listed below.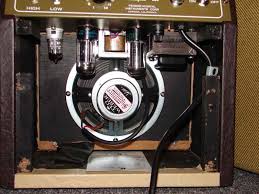 Available as a 6″ Combo, features an internal 4 ohm speaker output jack
5 Watts RMS
Volume Control
Power Switch
2 Input (high, low), 1 Channel
Solid State Diode Rectified
Class A, Single Ended
Internally, the Champ reissue has modified Blackface Champ circuitry.  The tone stack settings are hard-wired rather than adjustable via the Treble and Bass controls.  Additional resistors were also placed in the circuit to reduce input gain.  Lastly, Fender switched to solid-state rectification as opposed to the original 5Y3 tube.
We love using this amp for recordings.  Since it's a smaller speaker, the Champ naturally sounds a little bright, but that is easily cured with proper mic placement.  Regardless, this amp can turn out classic, clean Fender tones just as well as other models.  Crank this puppy up, and you can get a unique blues overdrive tone too; however, this overdrive isn't as crunchy as most players would probably prefer.  Either way, the Fender Champ 600 is a bonafide tone champion in The Record Shop's Nashville Recording Studio.  Come on in and see what this little giant can do!
That's a wrap on today's installment of Behind the Gear.  We can't express how much it means to us that you decided to spend some time with us today.  If you'd like to see The Record Shop Nashville's complete gear list here.  You can follow and chat with us any time on Twitter @therecordshop for updates on our studio projects and blogs!  See you next time.
https://therecordshopnashville.com/wp-content/uploads/2018/10/nashville-recording-studio.png
0
0
The Record Shop
https://therecordshopnashville.com/wp-content/uploads/2018/10/nashville-recording-studio.png
The Record Shop
2014-06-30 16:17:43
2014-06-30 16:17:43
Fender Champ 600