Here at The Record Shop we aim to make musical greatness with each project that gets brought to our Nashville Recording Studio.  What better way to make history than to use a guitar amplifier that has been used, almost exclusively, with guitar legends like Slash, Joe Bonnamassa, & John Frusciante?  Let's take a look at our Marshall Silver Jubilee 25/50 2553 head; proof that not all that glitters is gold…sometimes it's silver.
The Marshall Silver Jubilee series was introduced in 1987, to commemorate both their 25th year in the amplifier game and their 50th year in the music industry.  These limited edition, valve amplifiers were heavily based on the Marshall 2203 & 2204 master volume models and the Marshall JCM 800s but were designed with their own unique features.  Besides the illustrious silver vinyl and chrome-plated controls, these babies have a valve output stage that you can be set to either 25 or 50 watts (you see what they did there?!) to get real output-valve distortion at lower volumes, a great effects loop, and they have a preamp circuit that houses three gain modes. 
The Input Gain pot varies the amount of gain in each mode; if you set this low you get a clean tone, you may find that it is too low when you switch to a lead tone.  No prob Bob, pull on that knob and you've switched into the second gain mode called the Rhythm Clip, which gives you a distorted sound.  Mode 3, the Lead Channel, can be switched to via footswitch or by pulling the Output Master knob.  Marshall placed a Lead Master control knob as well to balance the volume of the Clean, or Rhythm Clip, with the Lead volume.  Let us not forget that these amps are also Tonal Beasts that changed the sound of Rock N' Roll forever!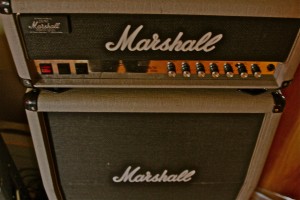 When the Jubilee Year ended, Marshall continued to produce more of the JS series in 1988, but replaced the silver and chrome with the standard black and gold look Marshall is famous for.  So, if you want your guitar tracks to sound like they came to Earth from the Rock Gods in Valhalla…you know where to find us.   Thanks for tuning in for this edition of Behind The Gear.  Feel free to check out the rest of our blog and follow/chat with us on Twitter @therecordshop!
https://therecordshopnashville.com/wp-content/uploads/2018/10/nashville-recording-studio.png
0
0
The Record Shop
https://therecordshopnashville.com/wp-content/uploads/2018/10/nashville-recording-studio.png
The Record Shop
2014-05-16 19:09:52
2014-06-04 14:50:41
Marshall Silver Jubilee 2553