Artifact is Jared Leto's documentary that began as a behind the scenes look of his band, 30 Seconds To Mars, recording their third album "This Is War."  As the project began, the focus of the movie took a dramatic twist when the band's record label, EMI, filed a $30 million lawsuit for breach of contract against them.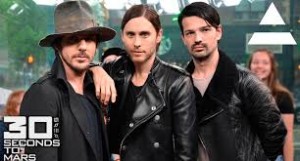 A quick summary of the issue is that the band signed a recording contract with Immortal Records in the late 90s.  The details of this deal aren't explained very well in Artifact.  However, this deal has been regarded by the band's Manager, Irving Azoff, and their attorney, Pete Paterno, as the worst record deal ever.  In 1999, Virgin Records bought their contract when they purchased Immortal.  Over the next few years 30 Seconds to Mars released two albums, "30 Seconds To Mars" and "A Beautiful Lie", embarked on world tours, and accumulated $3 million in debt to their label.  What triggered the actual lawsuit was that, before they started working on "This Is War" the band had tried to terminate their contract because they had not been paid a single royalty from EMI.
  They invoked a labor clause called the De Havilland Law, which states that, in California, no service contract is valid after seven years.  This termination was viewed as a breach of contract because the band had only delivered two of the five albums that their deal required.
This film also shines a light on the dwindling record industry, and the many failed attempts by labels and music industry outsiders to save their industry.  Everyone is aware of the dramatic change in the music industry, and the world, since the dawn of digital downloading and file sharing.  The record industry has taken the biggest hit because people don't buy music anymore.  This led to many labels consolidating their staff, establishing 360 deals as the norm, and screwing artists out of a lot of money.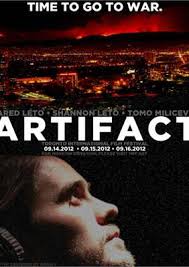 As Artifact ended, EMI gave in to 30 Seconds To Mars' demands.  The lawsuit was dropped and the band signed a new deal with EMI.  This comes as no surprise because most major label lawsuits against their artists end before they go to court.  Why?  Artists can't take the financial loss from legal fees like a major label can.  It's like any country trying to attack Russia during winter; they freeze or starve to death.  Another big factor for resigning was that the band couldn't maintain its worldwide success without the backing of a label.  They actually may have been able to do it on their own, but that is a massive amount of time and effort (i.e. the Trent Reznor case study).
Overall, Artifact sets a negative connotation towards major recording labels.  Many of the people interview in the film say that they don't know of any major label that doesn't try to screw the artist; their whole economy is based around getting as much money from their artists as they can.  Now, with in the world of the 360 deal, they are even trying to take a cut from artist's merchandising, publishing, and everything else the artist does that has nothing to do with the record label.  It must be said though that independent labels are also signing artists to 360 deals, and these major labels aren't as evil as some would have you believe.  There are always going to be examples of questionable business tactics, but major labels have been a staple in the music industry for over a century.  They've helped the greatest artists of every generation spread their music all over the planet, and there is always going to be a need for big players.  Who knows what the world would sound like without the work these labels put in? 
So, "What's the new model?  Why isn't there one that's better?", asks Leto.  The truth is no one really knows yet.  The record industry has been slow to making changes and adapting to the new technology being made over the last two decades.  Singer Serj Tankien points out in Artifact that major labels never even thought about creating their own online distribution systems, which Apple did with iTunes.  Whatever the solution turns out to be, it is clear that it will only come to fruition if the major labels stop trying to fight the Internet and learn to live within the Digital World.
One amazing thing that has happened because of the Digital Age is the up rise of Independent artists & labels and the ability to perform many of the duties major labels used to perform from your laptop.  As an independent, multi-faceted recording studio, The Record Shop Nashville is proud to be apart of this amazing developmental period of the music industry.  We have been very fortunate to have worked with amazing artist from both the independent and major league worlds, and it has given us a firsthand look into each.  From what we have found, both worlds are inhabited by some truly incredible people that all share one thing: an irrefutable love and passion for music.  
 Thanks for hangin' in there till the end!  Don't forget to check out the rest of our Nashville Recording Studio's blog, and be sure to follow us on Twitter @therecordshop for plenty of photos and updates from your friends here at The Record Shop!
https://therecordshopnashville.com/wp-content/uploads/2018/10/nashville-recording-studio.png
0
0
The Record Shop
https://therecordshopnashville.com/wp-content/uploads/2018/10/nashville-recording-studio.png
The Record Shop
2014-05-30 15:39:00
2014-07-07 19:19:27
Artifact: Jared Leto vs. The Majors