Well hey there ladies and gentlemen!  It's time for  another rumblin', tumblin', spittoon-spittin' edition of The Record Shop Nashville Recording Studio's BEHIND THE GEAR!!!  And boy howdy, if today's installment ain't a doozy folks.  We are very proud to talk to you about our lovely Vintech Audio Model 273 mic preamplifier.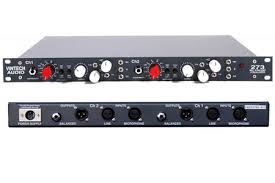 A Little Bit About Vintech!
Vintech Audio has been producing high-end analog outboard gear since their formation in 1997.  The young company makes each of its devices right here in the United States.  Each of their products are class A, discrete transformers-balanced mic pres whose circuitry is based off of the great Neve 1073 modules (pictured below).  The names of each Vintech Audio 73 series models (i.e. the Vintech 73, 273, and 473) are named after the amount of channels each has; clearly out 273 is a two-channel with a fantastic built in EQ.  That's it!  The 273 has no other built in effects.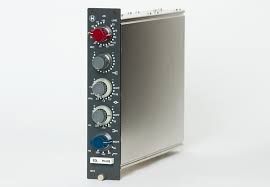 Give Us The Specs!!!
The Vintech 273 has two instrument inputs on the front and XLR inputs in the rear.  The parameters of the 273 are pretty standard: there are gain, output, and two-band EQ controls per channel.  Each channel also comes equipped with a set of switches for phantom power, phase in/out, EQ in/out, and a 5k/10k shelf for the EQ.  Lastly, Vintech installed push-push pots to alter the impedance and to switch the channel from a mic to line input.  Neat and organized, the Vintech 273 has been a great addition to our Nashville Recording Studio's rack. 
Well that wraps up today's Behind The Gear.  We hope we've given you a little bit more insight into the wonderful Vintech Audio model 273 mic preamp.  Be sure to check out The Record Shop Nashville's complete gear list.  And don't be a stranger y'all; follow and chat with us on Twitter @therecordshop for daily updates from your friends at The Record Shop!
https://therecordshopnashville.com/wp-content/uploads/2018/10/nashville-recording-studio.png
0
0
The Record Shop
https://therecordshopnashville.com/wp-content/uploads/2018/10/nashville-recording-studio.png
The Record Shop
2014-06-05 19:08:48
2014-06-05 19:08:48
Vintech Audio 273