Hey y'all!  Welcome back the The Record Shop Nashville Recording Studio for another installment of BEHIND THE GEAR, one of the most splendiforous, titillating gear blogs on this rock we call Earth!  Well…we love it anyways.  Today we want to share some information about one of the most prolific pianos in music history.  The one…the only…Fender Rhodes Mark II electric piano!  The Fender Rhodes has been a coveted piano since it's creation in 1960, when its inventor Harold Rhodes teamed up with Leo Fender to begin mass producing these fine instruments.  From Ray Manzarek to Herbie Hancock to "The Ruler of the Rhodes" Billy Preston, pianists alike have been performing live and recording the songs of their generations with these pianos.  So come on in, and lets talk about the Fender Rhodes!
Harold Rhodes: Inventor & Humanitarian
Before we dive into the instrument itself, we at The Record Shop want to shed a light on Harold Rhodes.  A Los Angeles native, Rhodes began teaching piano when he was 19, where he developed what is now called the "Rhodes Method" of teaching.  Harold aimed to combine classical piano's reliance on written sheet music with jazz improvisation.  During WWII Rhodes, now one of the top piano instructors in the U.S., joined the Army Air Corps where he continued to teach piano to his fellow soldiers.  Harold was soon asked by the Air General Surgeon to create a music-therapy program for injured GIs.  Rhodes then built several "lap-top" pianos, along with kits that soldiers could build themselves. These portable, 29-key pianos were made from used aluminum from B-17 airplanes and functioned almost like a xylophone.  "Make and Play", as the program was named, became the the most successful music-related program ever implemented by the United States government!  After he returned from War, Rhodes continued teaching and developing pianos with his new venture Rhodes Piano Corporation.  Then as history goes, Leo Fender bought RPC in 1959 and mass production began.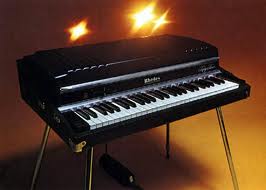 The Rhodes Stage Piano
Harold stayed with the Rhodes company after the 1965, CBS acquisition of Fender and developed the first Fender Rhodes piano.  These 73-keyed pianos were made up of two parts – the actual piano and a built-in power amplifier and speaker.  5 years later the 73-note Stage Piano was released!  The Stage Piano was marketed for its light-weight portability, detachable legs, sustain pedal, and single output jack.  From 1970 – 1981, Rhodes put out The Mark I Stage Piano, which was modified several times over the 1970s, and the Mark II Stage Piano.  Of the Mark Series (I-VII), the Mark I and II seem to be the most sought after by pianists.  There other pianos in the series seem to be used more for specific sounds and tastes, but they are mostly purchased as collectors items.  The Mark II is essentially a Mark I stage piano after all the design changes made during the 1970s.  It has the same black suitacse look, removable music rack, flat hard cover, volume-control & tone-control (bass boost) knobs, tuning fork principle sound generation, sustain pedal, and adjustable legs.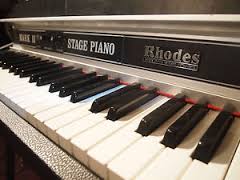 There really isn't much we can say to describe the Mark II's tone in words.  Follow this link HERE for a video demonstration by Neville Styke's YouTube channel where he showcases the full audio spectrum of the Mark II.  In closing, the Rhodes Mark II Stage Piano has a completely unique tone that can add so much richness to your track and arrangement that is simply unparalleled.  Harold Rhodes gave the world an amazing gift by creating these instruments, and he will forever go down in history for his revolutionary designs for pianos and sound creation.  So, the next time you find yourself in Nashville give us here at The Record Shop a call and tickle the keys of our Mark II.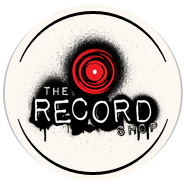 Thank you for joining The Record Shop Nashville for another Behind The Gear.  We hope we've been informative.  Click HERE for a complete list of our Nashville Recording Studio's gear.  And HEY!!! Follow and chat with Gio & the crew on Twitter @therecordshop!  See y'all next time!
https://therecordshopnashville.com/wp-content/uploads/2018/10/nashville-recording-studio.png
0
0
The Record Shop
https://therecordshopnashville.com/wp-content/uploads/2018/10/nashville-recording-studio.png
The Record Shop
2014-07-23 17:10:28
2014-07-23 17:10:28
Rhodes Mark II