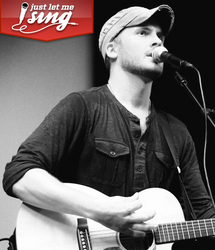 Luke James from JustLetMeSing.com
Charlotte, NC (PRWEB) April 11, 2011
Luke James from Bowling Green, OH has been named the winner of JustLetMeSing.com's worldwide singing contest. To win, Luke beat out over 600 other contestants and made it through nine rounds of elimination singing a variety of cover songs and originals. The contestant search began in July 2010 and garnered entries from 48 U.S. states and 45 countries. Contestants uploaded videos and the public was invited to vote for their favorites at JustLetMeSing.com.
Luke received 154,000 votes to edge out the bluesy runner up, Anna McReynolds from Nashville, TN. The competition also had a parody category which was won by Tim Baggett of Newport News, VA. His finale video was a comical take on Billy Joel's "We Didn't Start the Fire" called "We Didn't Read the Label".
While he was never into music while growing up, Luke finally picked up a guitar at age 18 and hasn't stopped since. In 2009 and 2010 he made it to the Hollywood round of American Idol. After just missing the top 24 both times Luke decided to pursue a career in music and has been performing shows across the country.
Luke created his own videos, each with its own artistic flair. One of his more popular videos featured him singing Gnarls Barkley's "Crazy" with over 30 wardrobe changes during the four minute song. Another is his original "We Fall" which showcases him playing guitar with broken strings in a suit and tennis shoes under a tree in the middle of winter.
As the winner, Luke receives the opportunity to record his own single at The Record Shop in Nashville, TN. He will also be performing on Balcony TV Nashville which is shot at The Hard Rock Café. Luke also receives a Virtual Radio Tour valued at $5,000, which exposes his music to radio stations across the country.
Season two of Just Let Me Sing will feature microsites hosted by local media partners in the U.S. and Canada. The site is integrated into Facebook and Twitter to increase the viral spread of the best videos. Anyone interested in becoming a microsite partner or contacting the artists please see below.
Contact Information:
Company: Just Let Me Sing, LLC
Web: https://www.JustLetMeSing.com
Sponsors:
CMC Promotions: https://www.CMCPromotions.com
The Record Shop: https://therecordshopnashville.com
Balcony TV: https://www.BalconyTV.com
https://therecordshopnashville.com/wp-content/uploads/2018/10/nashville-recording-studio.png
0
0
The Record Shop
https://therecordshopnashville.com/wp-content/uploads/2018/10/nashville-recording-studio.png
The Record Shop
2011-04-12 09:34:19
2011-04-12 09:34:19
Luke James wins Just Let Me Sing! contest and a session at The Record Shop