We have a tasty treat for y'all in today's installment of our Nashville Recording Studio's series Behind The Gear!!!  The Avalon Vacuum Tube 373 preamplifier, the world's first Direct Recording Channel, is hands down one the greatest Microphone Pre-amps to have ever graced the walls of a recording studio.  Everyone who is anyone in the recording biz – like Abbey Road Studios, Prince's Paisley Park, and Walt Disney Imagineering, just to name a few – have used this preamplifier to record hit after hit.  This preamplifier can make any voice or instrument sound absolutely unremarkable.  Here, at the Record Shop, the AD VT-737 has done just that time and time again.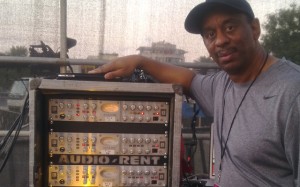 Avalon has been known for making fantastic Microphone Pre-Amplifiers since its founding by Wynton R. Morro.  The company proudly boasts that each of its products, "…utilize 100% discrete, high-bias pure Class A audio amplifiers. These pure Class A amplifiers are incorporated into minimal signal path designs which include sealed silver relays, balanced DC coupled high-current "outside-world" drivers, fully discrete linear DC regulators, low noise toroidal power transformers and selected high quality active and passive components."  In our Nashville recording studio, we love using this beast to get that classic, warm tube sound when tracking, especially on bass and vocals.  It has come to a consensus that female vocals are probably our favorite thing to run through with this preamplifier.  Personally, day dream about how heavenly the world would sound if every persons' voice was put through the 737.
What's so special about it already!?!?
Okay, okay, sheesh.  This baby packs a punch into your recordings using a combination tube preamplifiers, opto-compressor, sweep equalizer, output level and VU metering.  It has three, count them 1-2-3, different input selections; 1) a microphone input transformer with +48v phantom power, 2) an instrument DI input with jack on front panel, and 3) a balanced line input. The opto-compressor has amazing dynamic range.  You can obtain everything from soft compression to hard knee limiting with the threshold, ratio-compression, attack and release controls. The 4-band EQ control on this guy is bananas. You can also enhance mid bands with the X10 frequency multipliers.  The multipliers ever-so-sweetly enhance the high and low ends too!  One of our favorite features are the high-voltage circuits inside of the 737.  They reduce the amount of noise tremendously (-92dB) and leave you with ample headroom (up to +30dB). 

You can go here to see ALL the specs & features of this incredible piece of machinery.
Thanks for checking out this segment of Behind The Gear!  If you're interested in learning more about the rest of the gear at The Record Shop click here to view out complete gear list!  Don't be a stranger; you can follow and chat with us on Twitter @therecordshop!

https://therecordshopnashville.com/wp-content/uploads/2018/10/nashville-recording-studio.png
0
0
The Record Shop
https://therecordshopnashville.com/wp-content/uploads/2018/10/nashville-recording-studio.png
The Record Shop
2014-05-19 19:42:03
2014-06-04 14:52:47
Preamplifier: Avalon VT-737